HoneyMoon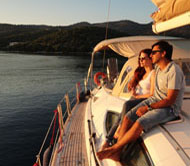 The highlight of your wedding! Because your wedding is the nicest memory of your life, organize a wonderful honeymoon trip with Μanos Υachting and give it the glory it deserves. Enjoy the endless blue sea. Unique beaches, without any disturbance. Enjoy intimate moments with your partner and live wonderful your first hours as a married couple.
We are going to take of that! All of our packages can be fit on you and only, according to your wishes and budget. Everything is organized to define the uniqueness of your trip! Imagine a honeymoon with champagne and fruits in your cabin, roseleaves forming hearts on your king-size bed and many other surprises that you will find out during your trip!
With special destinations, knowledge, experience and willingness we are going to lead you to the best choice for your honeymoon, according to your needs and wishes. The experience of our hospitable and discreet staff in organizing honeymoon trips guarantees the success of your trip.
A professional skipper will ensure you a comfortable and secure experience. Meanwhile our hostess, specialized in passenger service, will be preparing breakfast and dinner as well as being there to satisfy your desires. There is no need to be occupied with ship duties, for you to relax on the upper deck enjoying the sunset in front of you while tasting an aperitif.